Week 11 started quietly with various catch-up activities. On Tuesday I spent half-a-day at the Central St. Martin's Library updating my research on my shopkeepers project and getting better grounding in the new sub-project area of self-portraiture. Being between terms their library was quiet, no difficult sitting anywhere on any floor for a change.
They also had good free WiFi that allowed me to watch and listen to this weeks presentation by Andrew Jackson. Currently based in Kingston, Jamaica, he gave a fascinating talk about some of his urban photography roots, and an insightful illustration about documenting migration.
Library-wise it was reasonably successful, I was able to borrow three books; Staging the Self: Self-Portrait Photography 1940's - 1980's. This was really the catalogue of an exhibition that had been held at The National Portrait Gallery in late 86/early 87. As well as a number of very pertinent images it had an historical review as the introduction and a number of interesting articles by various commentators on self-portraiture. Chevrier summarized the essential situation in his article "The image of the Other" that "Every Self-Portrait, even the simplest and least staged, is the portrait of another". Another very quotable statement was by Butler who said in his "How do I look" article: "to photograph oneself in invariably a schizoid undertaking". I have to agree, there is an odd feeling being both the subject and the photographer, though I think my scientific background and analytical leanings helps on that one.
The second was a 'proper' book; 'Striking resemblance:the changing art of portraiture'. It should be an interesting read. The last was almost an afterthought. "Russian Self Portraits" is a bit of an odd book. A record of an artistic enterprise that took place in the US pavilion of an international arts event in Kiev. At the time the iron curtain was very firmly shut, 1977., the time of Breshnev. The book is largely photographs taken by different Russian visitors of themselves, and sometimes their partner or family. Early selfies of a sort maybe. Here's a few examples:
The next day Wendy McMurdo, the leader of my next module 'The Final Major Project', gave me an introductory briefing over a 30 minute 1-1 webinar. I was left with the impression is was to be very different in approach from the first four modules and will be very 'real'. I now have to put together a set of images supporting whatever my final choice is for Final Major Project. Wendy would be happy for me to put two alternative proposals forward, but that does seem a bit like ducking the decision. I'll think about it. Then in a way it's back to the start, producing a detailed research proposal etc. It will be interesting to compare it to the one I did at the end of the introductory module at the start of the course.
The following day I undertook what proved to be quite a lengthy shoot, attempting to capture a self-portrait of myself in the reflection for the desktop wireless mouse I have used daily for a number of years.
There were two potential reflective surfaces. The first a very narrow chrome band that went around the mouse, the second a reflection on the black surface of th convex shapeof the back of the mouse. To aid composition I positioned it where it usually is, very close to the side of my keyboard.
This did not prove at all easy. These were the better results achieved.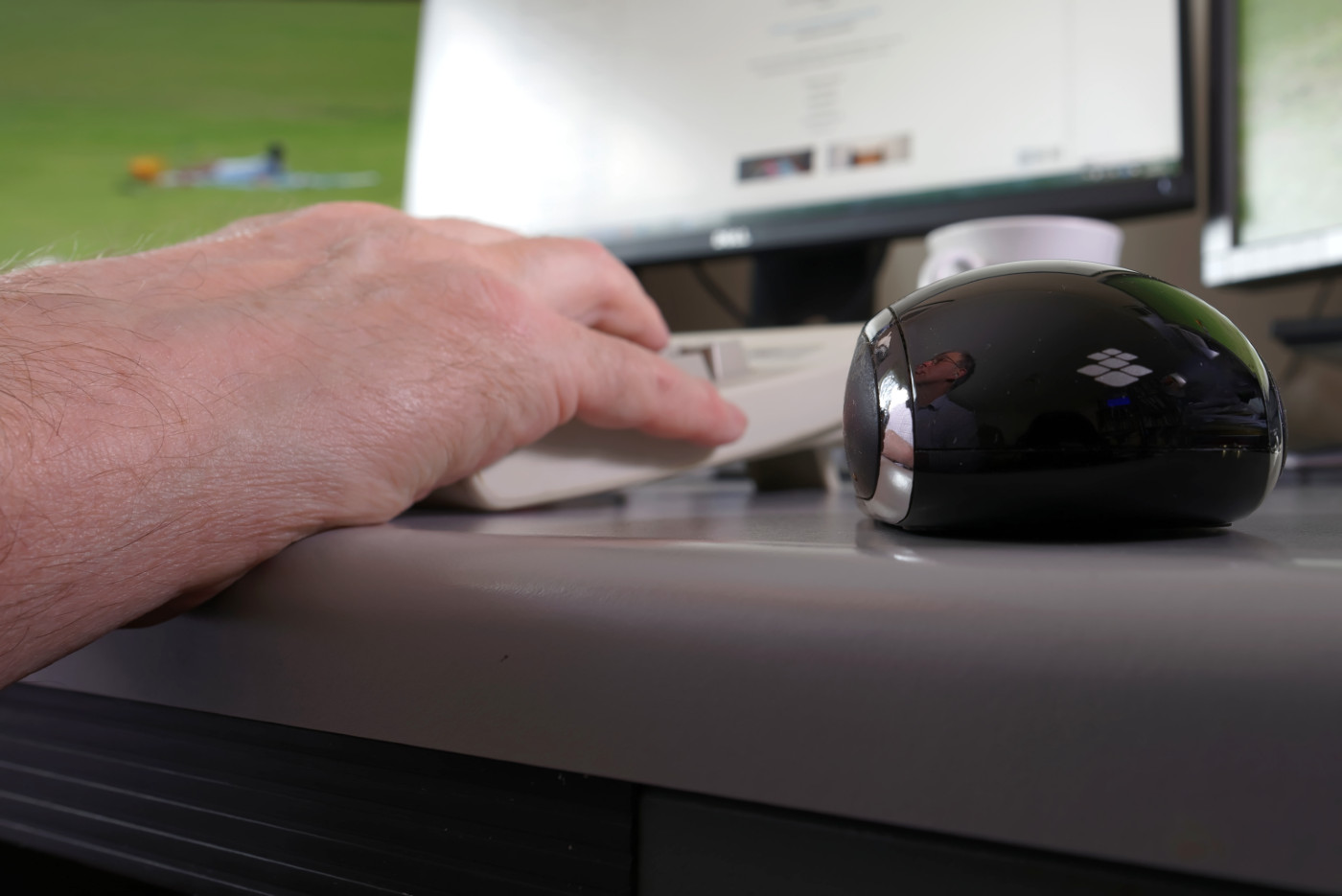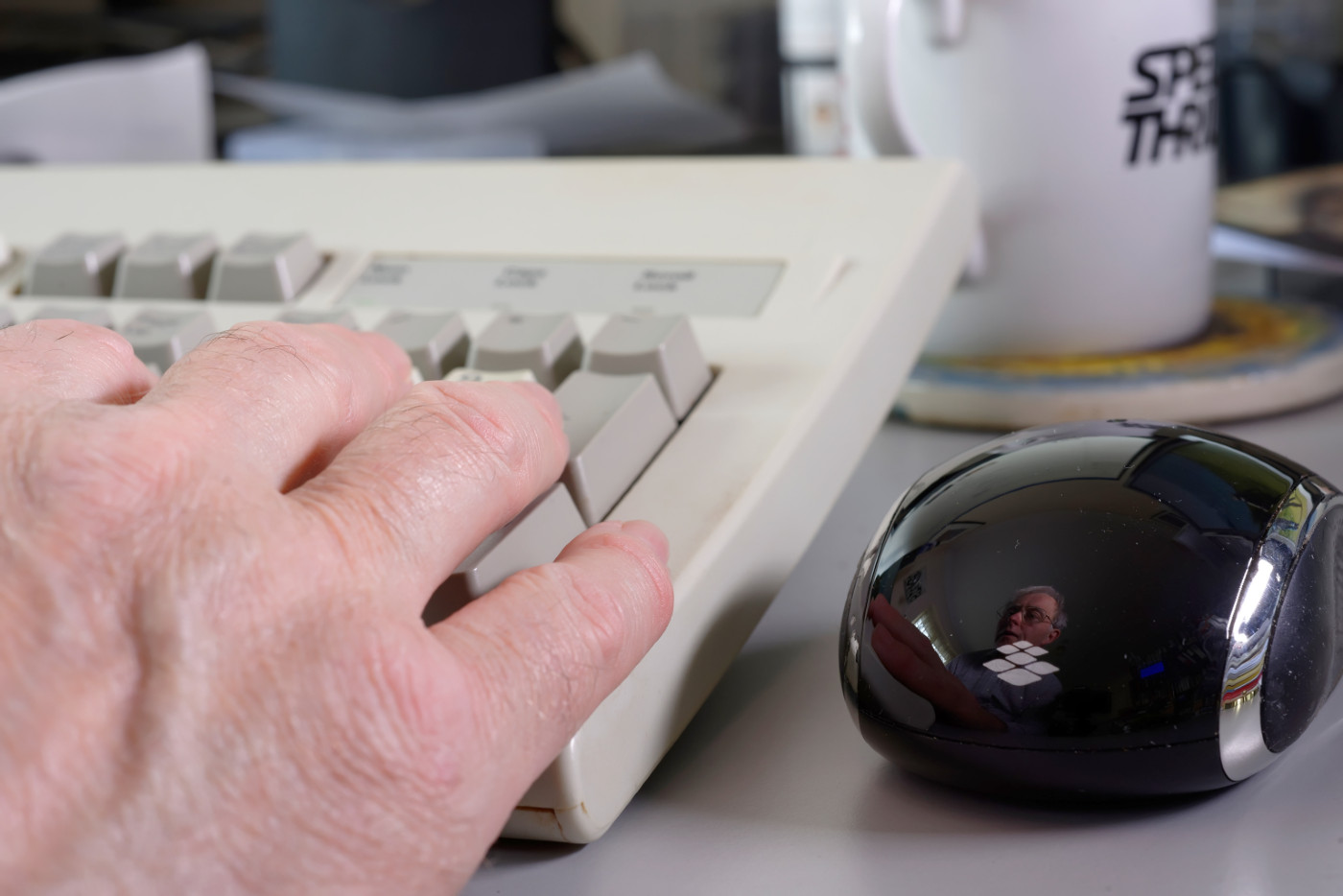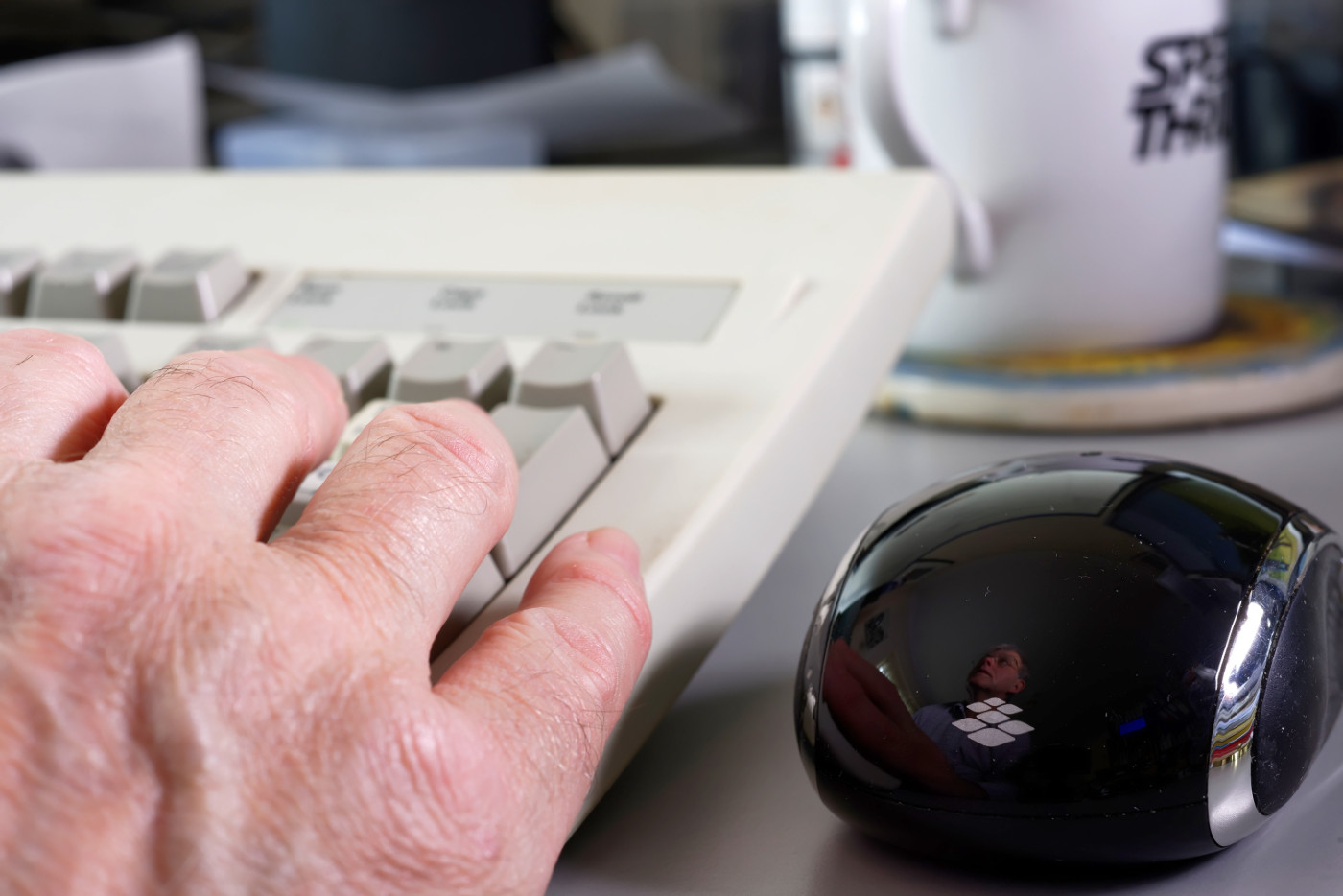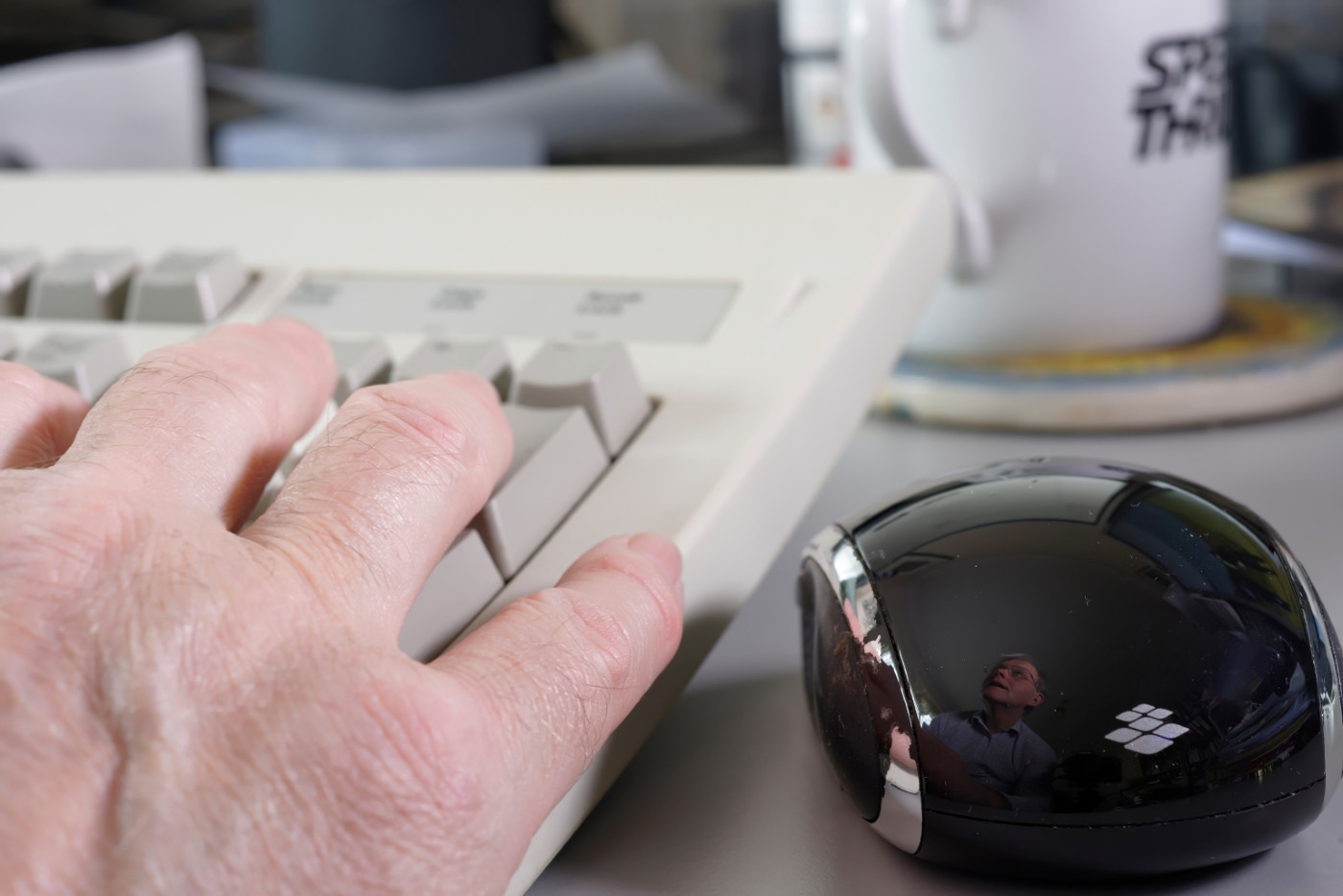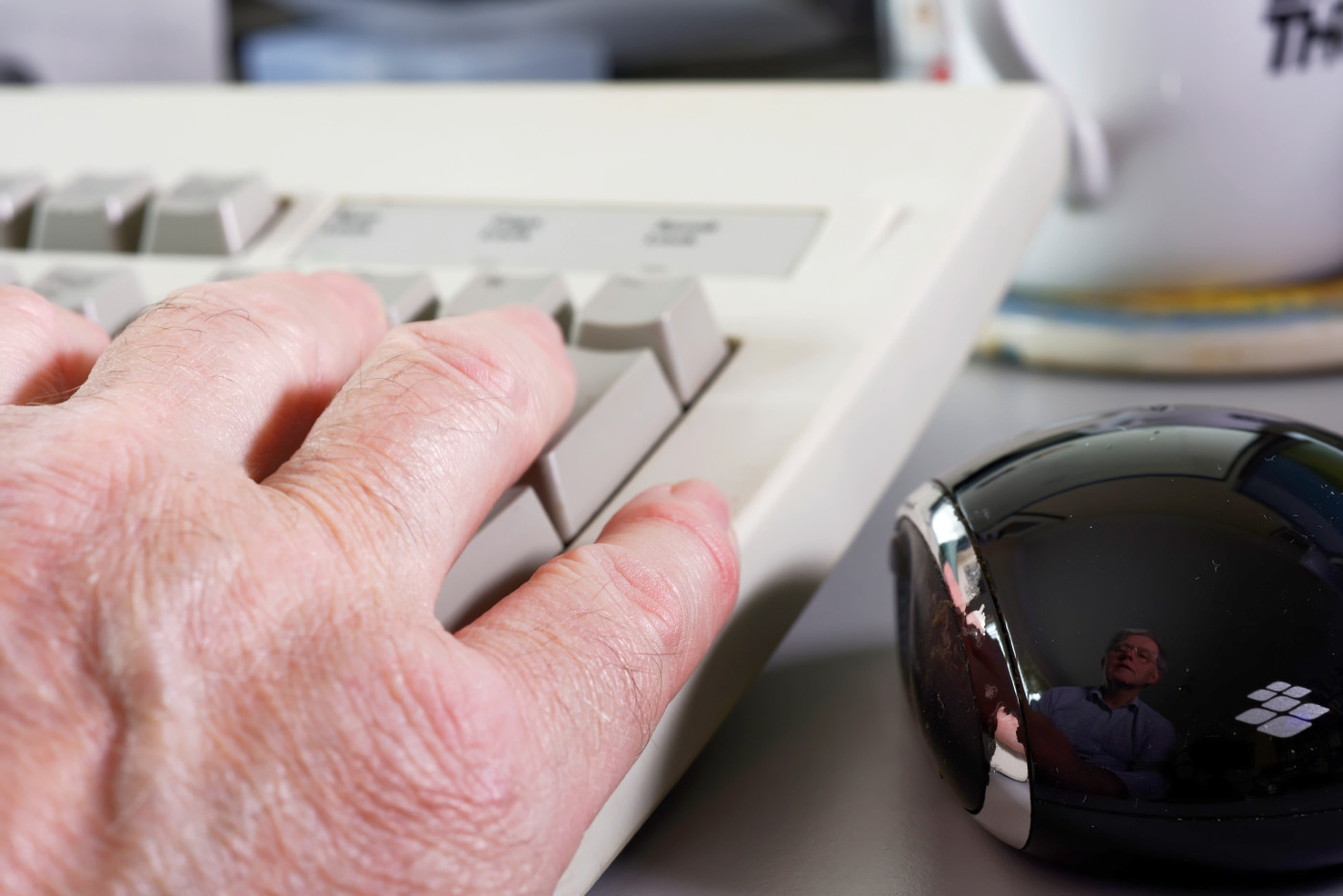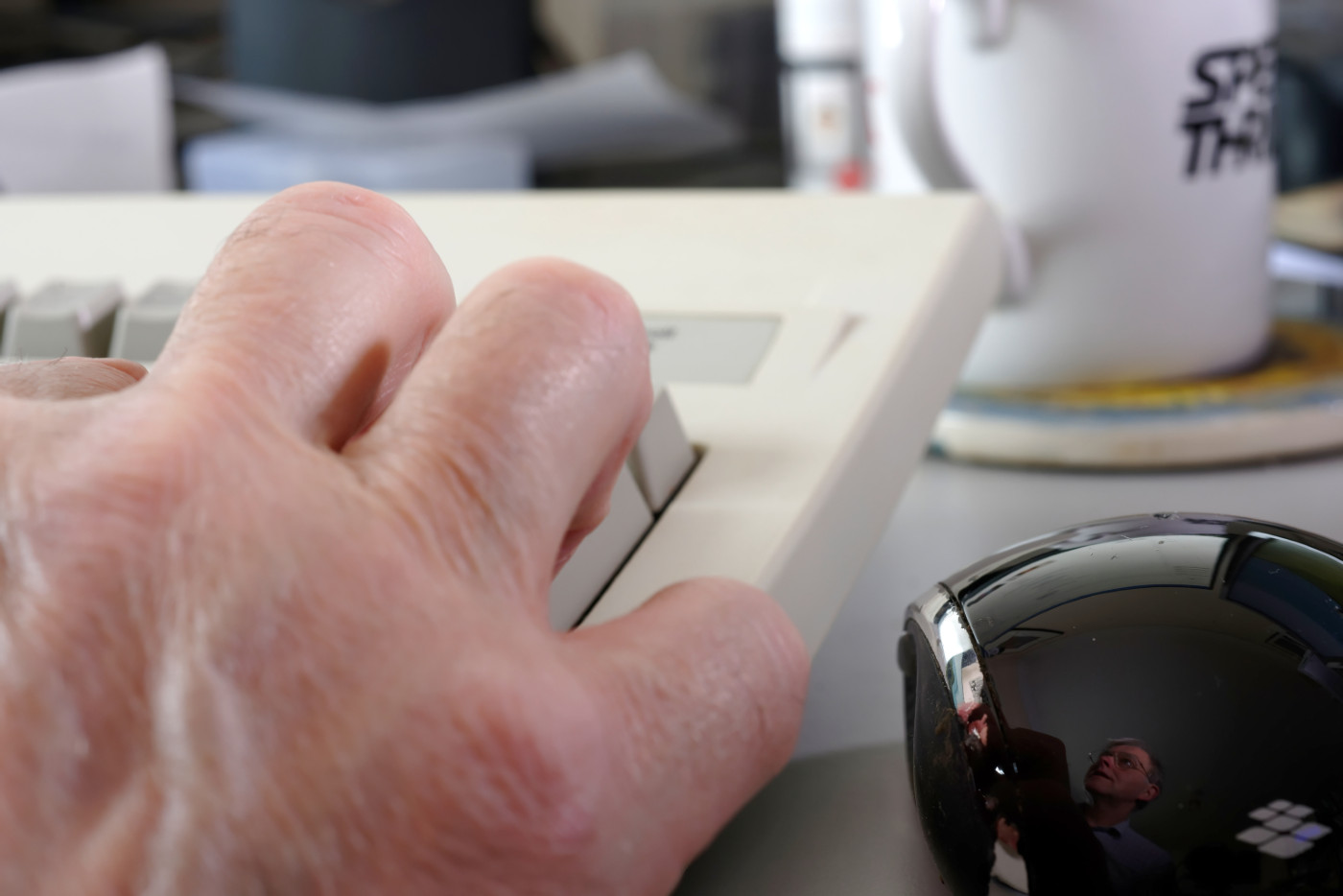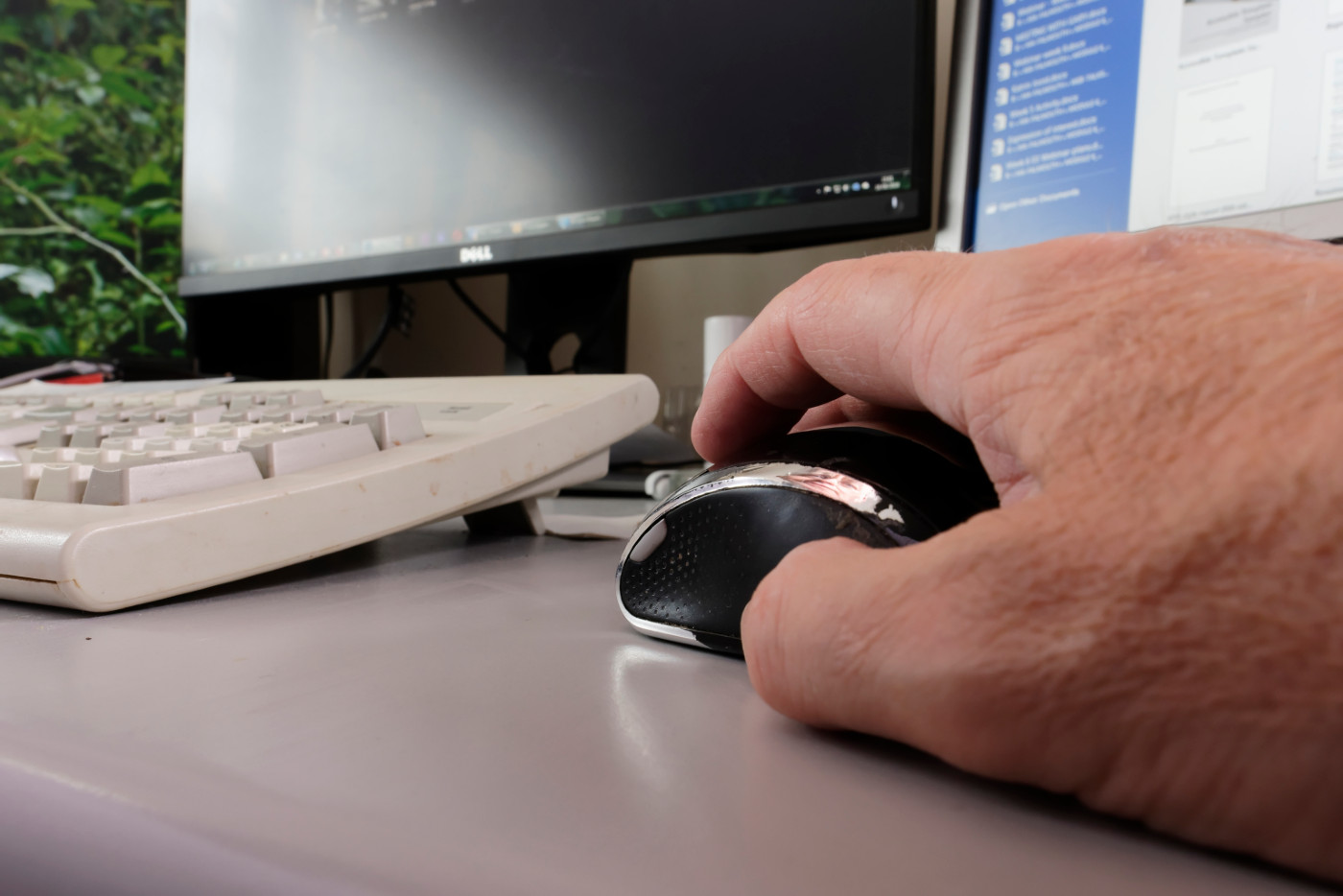 While I was able to get capture small reflection in the chrome strip on the mouse, in the end I chose one of the larger image captures reflected on the back of the mouse for my 'Work in Progress' portfolio. Having the keyboard and fingers included seemed to be effective. Showing pretty much my 'real world' situation.
I followed up my library research with a little internet searching. There's not shortage of practice examples with self-portraiture. Work that I found particularly interesting was by Lee Friedlander, Florence Henri, Cladue Cahun ((Lucy Renee Mathilde Schwob) ) and Elena Brotheras 'Annonciation' project. Nikki S. Lea did an intriguing series using snapsjots on the construction of gender, ethnicity, and cultural identity. I'm not convinced of the effectiveness of her approach, but it's certainly different.
I also came across two examples of the use of self-portraiture in creative training, one in the Photographer's Playbook, the other in a US course of practical art instruction.
The rest of my time has been pretty much focused on completing/updating these CRJ's and designing, creating my Oral Presentation Assignment. The link to my Oral presentation video is here:
Not the best of faces, but the chesty cold that is still lingering after two weeks of reappearance shifted out of the way enough to speak reasonably clearly. A lot of thought, and time, went into it, not so sure it all works but there it is. My first video speaking and walking whilst facing my own camera.
Technically I had to use the full video rig that I've bought for the Zhiyun mirrorless camera stabilizer. That is fitting the two-hand horizontal adapter, fixing my 7" HD resolution monitor, and rigging up a way to have a sheet in front of me to read my script. I also had to fit my very wide 12mm Samyang manual lens to my Fuji T20. I wore glasses so I could make sure I was in focus. Not too heavy. It is tempting to consider a more powerful rig that could take my much heavier fill-grame DSLR/lens combination, such as that I understand Ronin provides. But do I want more weight to lug around and carry? Trade-off...
I finalised my 'Work in Progress' portfolio of fourteen images and four video pieces the day before. The link is on the navigation panel in the top right.
I should also mention the excellent presentation given in our last web event of this module by the Polish photographer Michel Iwanowski a few days ago. He gave a very comprehensive account of what led to him undertaking his last project, 'Go Home Polish'. A record of a walking tour from where he currently lives in Cardiff to his home town in Poland.
He gave a lot of useful first-hand comment about applying for Arts Council Grants and how gaining funding helps realize the project in that gaining funding from such a recognized body validates his work with others. His work was also pretty good, though I preferred some of his 'straight' imagery to his more contrived shots.
He finished with the comment that he advises people leave themselves plenty of time to arrange things like exhibitions and books, whilst admitting he doesn't actually do that himself.
A situation I can totally relate too as assignment time for each module has involved some quite late nights and early mornings. Avoidable if I didn't leave so much to close to the end.
My final note is that all is confirmed for the physical exhibition of my 'Distinctively Different exhibition of prints and video from my Croydon Shopkeeper collaboration. Just have to get the publicity flyer done, oh, and the prints printed and mounted...
REFERENCES
Chevrier JF, 1986 The Image of the Other in Lingwood, J Staging the Self: Self-portrait photography 1840s – 1980s, National Portrait Gallery.
Butler S, 1986. "So How Do I Look? in Lingwood, J Staging the Self: Self-portrait photography 1840s – 1980s London, National Portrait Gallery.
Wei, S Hotel Self-portrait, task in Fulford J & Halpern G Photographers Playbook (2014) New York, Aperture
Hopkins, J. My Future Self (Part of a teaching block for US 6th grade students studying art, a final project on Self-Portraits), date not stated. The Solomon R. Guggenheim Foundation, New York Accessed from https://media.guggenheim.org/lta/making_art/pdfs/11/My%20Future%20Self%20FINAL%20nr.pdf
Russian book images photocopied from:
Attie, D. 1977 Russian Self-Portraits, London, Thames & Hudson
.