Whilst the week began with visits to several of the London Fashion week venues on the Sunday and Monday, the rest of the week was spent on a number of non-photographic duties. My last week before beginning the Final Major Project Stage of my Falmouth Photography MA.
Apart from meeting a number of interesting people the highlight of my time at London Fashion Week was being able to join a number of other photographers in the 'pit' at the end of the catwalk at Fashion Scout's Free Masons hall venue for three of their SS19 collection shows. As a newcomer I didn't have the ideal position looking directly down the catwalk.
For some of the shots I copies those around me and moved the setting of my DSLR to 'continuous shooting', a setting I normally rarely use. While this probably helps slightly framing-wise, I'm not convinced the many images captured really assist in getting the best shot. The main virtue was at the end as the model faced the photographer's and then turned to go back. Situated to the edge of the pack this moment of turning gave the greatest opportunity of capturing a less-side on image. What it certainly did was dramatically increase the number of shots taken in total.
Technically I decided to shoot in raw and adjust the colour temperature later. A fellow photographer had advised shooting at a certain quite cool colour temperature. My experience on processing the images later was that this was pretty close.
These are from the first collection I shot, the Farzeneh H Christensen collection.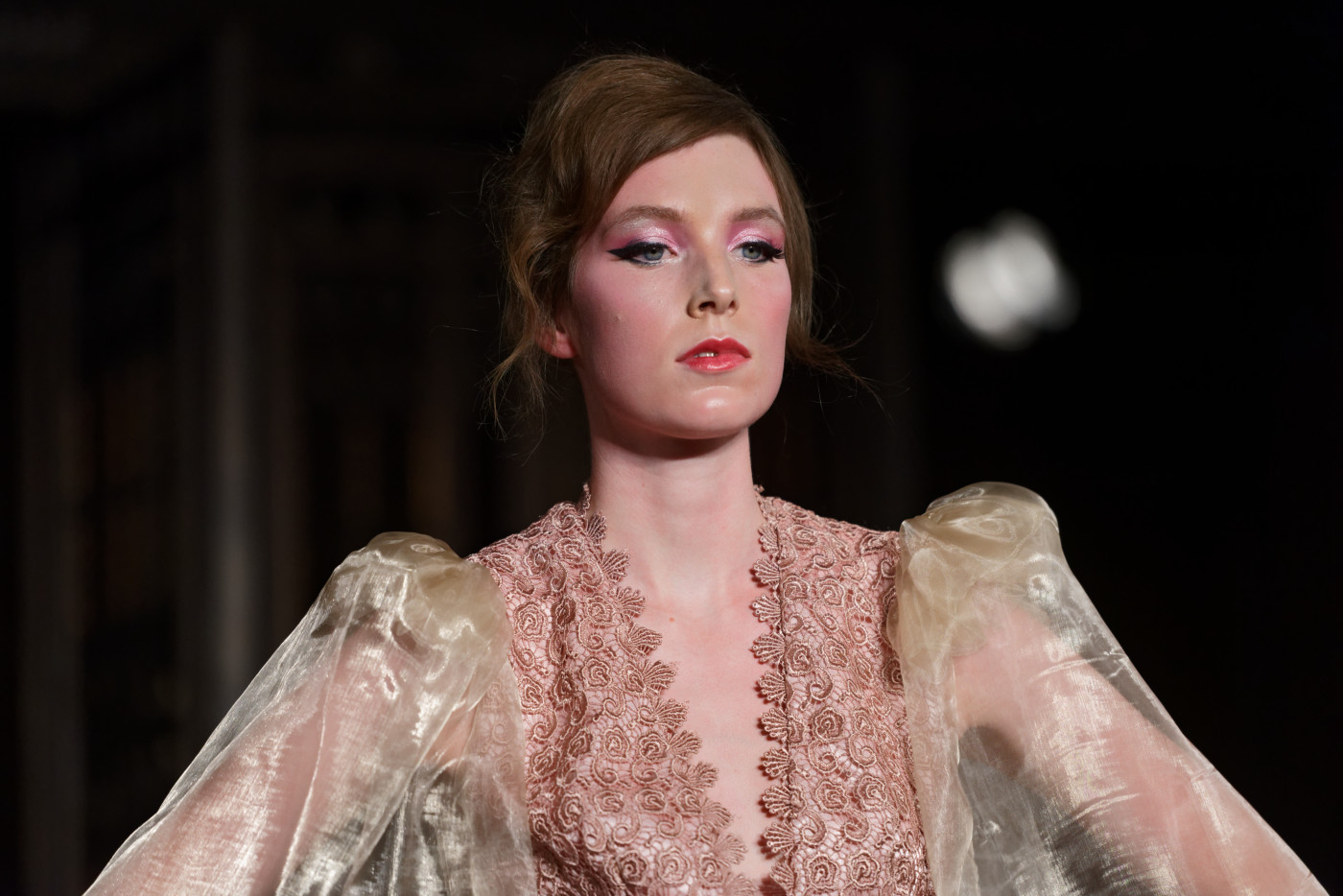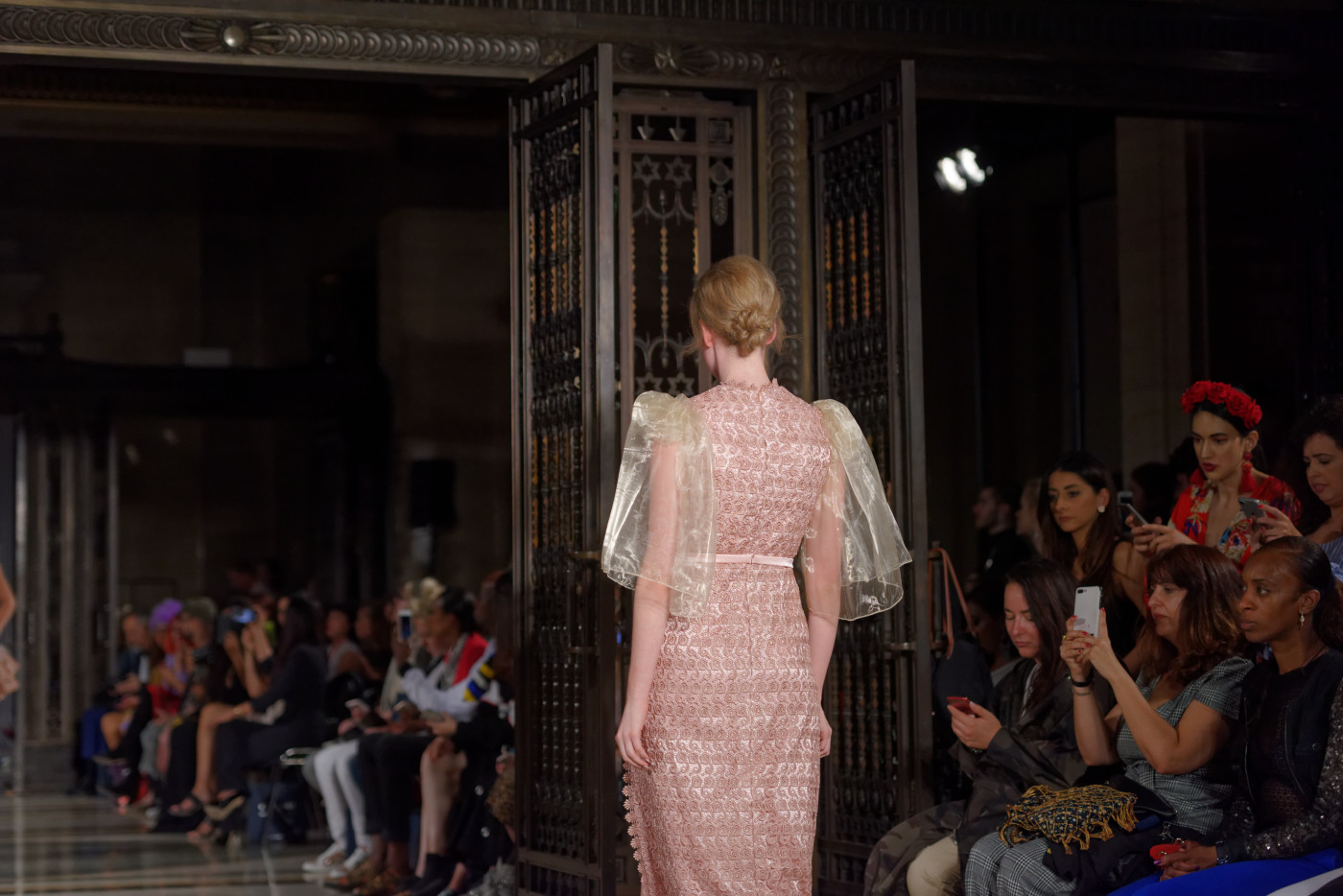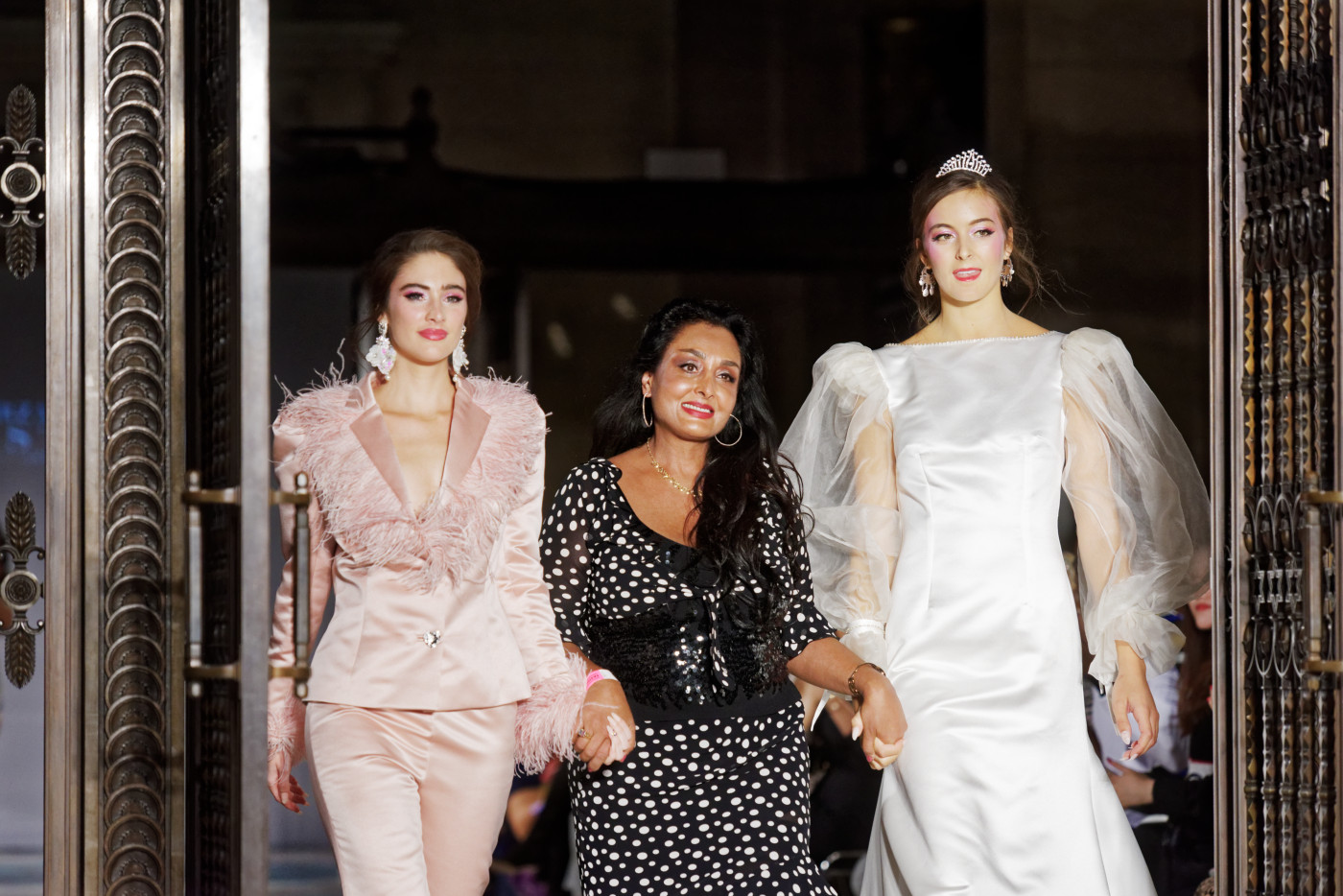 With hindsight the lessons learned where:
Didn't need to shoot at quite as fast a speed as I did; typically 1/1500 with my 70-200 mm f/2.8 stabilised lens. A slightly slower speed could have meant a better iso or increased depth of field.

Do not rely on auto-focus. The lens I used has a very good AF function, but I suspect the reflections in the low light for a number of the garments led it astray.

Whilst the 70-200mm is almost perfect for the hall environment of a catwalk shoot, it might have been good to be able to quickly move to a body with a wider lens, but little time in practice to do this. Certainly helpful for the closing part where the designer often walks on escorted by models.

Don't go in too close zoom-wise. Too easy to crop of an elbow etc.

I could have set up the colour temperature in advance, though my adjusted colour result are not too bad. Very important if I'd been relying on jpeg for rapid image dissemination, as some photographer's were.
Friday evening found conducting my first paid commission for video work, covering a gig by the Status Quo tribute band, Statin Quo, at a South London venue. One of my shopkeeper collaborators, Carl Nielsen, had asked if I could use my hand-held stabilized camera rig to shoot video of his band, which he helped found. (Carl is a long time next door neighbour and good friend of Quo founder member Francis Rossi). Originally it was to be when they were rehearsing but in the end it was whilst they were performing to an audience. Here's a link to one of the many numbers recorded that evening.
I'd not charged a lot, it was very much a learning exercise, though I did underestimate the total amount of effort needed to cover a full gig and the degree of time needed to re-process from the raw video file afterwards. It did not include splicing to their master mix. The sound heard here is that directly recorded by the Rode Stereo shotgun mike attached to the camera.
The group were however quite happy with the result and Carl would like me to capture further video and other gigs.